I hate getting off on a sad note right off the bat, but it's been a rough week. On Thursday, my step-grandmother died. While we weren't incredibly close, it still sucks, and I adore my step-father, so watching him grieve sucks.
Today, my grandmother called me to tell me that my grandpa died. My grandfather was my absolute most favorite person alive, he was a decorated war hero, having been a glider pilot in WWII and he lived to the age of 94.
I'm incredibly sad tonight, and I'm not sure what the next few days will look like since my grandparents live in Palm Desert, California.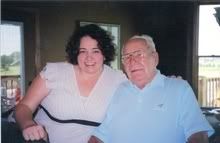 Rest well, Grandpa.